Pentair - 520538 EasyTouch 4 System, Pool & Spa Combo, Load Center, 2 Actuators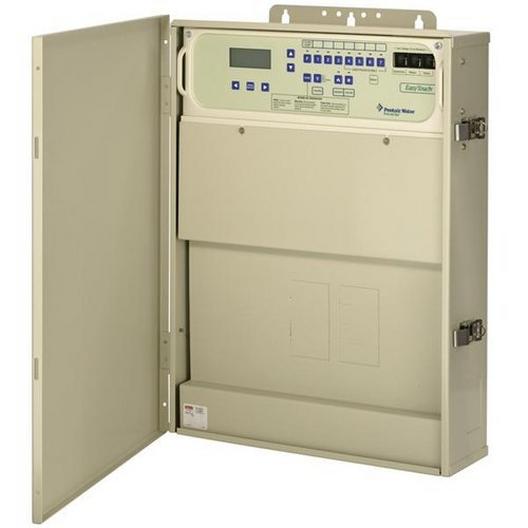 Pentair 520538 EasyTouch 4 System, Pool & Spa Combo, Load Center, 2 Actuators, 4 Relays, No Indoor ControlPanel. More Details
---
Description
Pentair 520538 EasyTouch 4 System, Pool & Spa Combo, Load Center, 2 Actuators, 4 Relays, No Indoor ControlPanel.
All functions controlled with easy, one-button access from the self-contained load center or optional controllers. No need to memorize operating sequences, open and close valves, or reset time clocks and thermostats.
Optional controllers for added convenience: Indoor control panel (for 4 or 8 circuit systems), a wireless controller (for 4 or 8 circuit systems), a QuickTouch 4-function wireless remote, a Four-function spa-side remote, a 4-button spa side remote, and iS10 spa-side remote.
Built-in diagnostics include automatic verification of the display, microprocessor, switches, indicators, relay outputs, valve outputs, sensor inputs, and communication ports as well as a diagnostic screen that reports failures for troubleshooting and repair purposes
Includes 125 Amp Breaker Base
UL and CUL approved
ThermalFlo heat pump integration
Support for 2 VS or 2 VF Pumps
Supports 8 Feature circuits
MagicStream Laminar support
Control Panel Lockout
IntelliBrite pool and spa light support
iS10 spa-side remote support and control of IntelliFlo Pump
---
Details
Pentair 520538 EasyTouch 4 System, Pool & Spa Combo with shared equipment. You select from systems that control 4 or 8 accessory functions. All functions are controlled with one-button access from the totally self-contained load center. Optional controllers are available. An Eco Select Choice: By automating and synchronizing equipment scheduling, EasyTouch Control Systems can optimize energy use and equipment performance, while preventing problems and waste when users rely on their memories or limited time clocks to operate or deactivate equipment. ~~The EasyTouch 520538 gives your pool and spa the freedom and convenience of an affordable Automatic Control System. Easily set up pump schedules, heater temperatures, turning valves, controlling water features, pool and landscape lighting, cleaners and more with just a single button on the main control panel.
The EasyTouch 520538 runs up to four operating schedules or programs. It features an easy-to-read LCD display with clear instructions to make operation a simple task. The controls are housed in a durable, weatherproof Power Center installed right on your equipment pad.
Pentair's 520538 EasyTouch 4 Automatic Control System brings you advanced capabilities in an affordable and easy-to-install system that allows you greater control over your pool and spa.
California Residents WARNING: Cancer and Reproductive Harm - www.P65Warnings.ca.gov
---
Specs
| | |
| --- | --- |
| Voltage: | 120V / 240V |
| Control System Type: | Control System |
| Installation Type: | Pool/Spa Only |
| Product Type: | Automatic Control |
| Relays: | 4 |
| Manufacturer: | Pentair |
| Installation Type: | Residential |
| Warranty: | 60-Day |
---
---
Warranty
Sixty Day Warranty, see Owner's Manual for a full description of warranty claims and coverage details.