Spa Components - Spa Air Blower Check Valve, 1.5in/2in, 1/4 lb, Spring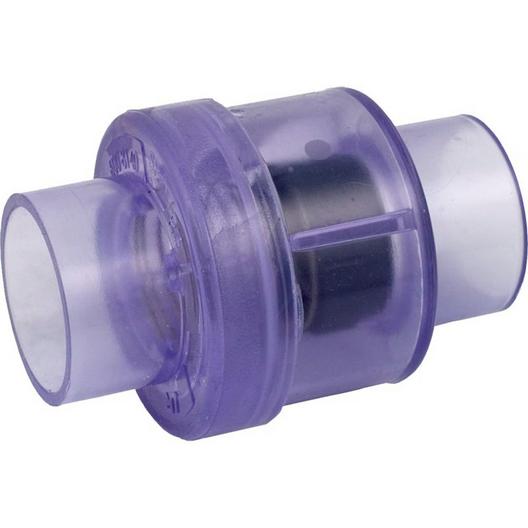 ---
---
Details
Spa Air blowers require a check valve, or backflow preventer, to keep water on the wet side of the Hartford Loop, from reaching the dry side, and flooding a spa or hot tub air blower. When spa air blowers are connected to the air line, a Hartford Loop is used, bringing the air line above the spa water line, and in addition, a check valve is used, which allows the air to flow in one direction, but prevents water from traveling in the other direction, towards the blower.
This spa or hot tub air line check valve accepts 1.5"" pipe on the inside, or a 2"" coupling on the outside. Install with the Arrow pointing in the direction of air flow. Do not glue a spa blower check valve in place, but use screws to join the pipe and valve.
Spa Air Check Valve is made from molded PVC, with a spring loaded diverter and gasket. Stainless steel spring is compressed with 1/4 lb of pressure, opening the check valve, allowing air to pass. Stronger 1 lb or 2 lb check valves are too much resistance for most spa blowers, and could lead to early blower motor failure.