Hot Tub Works - Spa Metal Out Water Clarifier - 32oz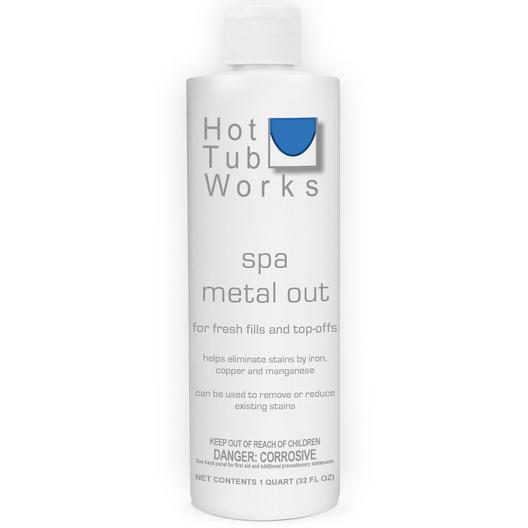 More Details
This item is currently not available
Excludes all spa covers. Discount Applied in Cart!
---
---
---
---
Details
The Spa Metal Out from Hot Tub Works helps remove stains and prevent scale from forming in your spa by removing any presence of metals in your spa water. Spa Metal Out is formulated to disperse metals such as iron, copper and manganese and rid your hot tubs surfaces of any stains and scale formed by metal deposits. Regular use of Spa Metal Out helps prevent stains and scale from reappearing as well.
Product Size: 32 oz. bottle
Removes microscopic metal deposits like copper, iron and manganese
Helps remove existing stains; prevents future stains
Prevents formation of scale due to mineral deposits in water
Helps maintain crystal clear water
Stain removal dosage: 32 oz. per 500 gallons of water
Maintenance dosage: 16 oz. per 500 gallons of water
Tips: Use when filling your hot tub with fresh water or for top-offs to maintain a clean, stain-free spa
Limited Quantity; shipping restrictions apply!
This item can only be shipped via Ground Shipping.
It cannot be shipped to Hawaii, Alaska or any other locations by Air.